Australia Winning Appliance turned the EPS recycling project back into profit with GREENMAX EPS Hot Melting Machine
Australia Winning Appliance was founded in 1906 and is currently operated by John Winning, the fourth-generation CEO of the Winning family. Winning Appliance provides high-end kitchen and laundry appliances, and focuses on creating an excellent shopping experience for consumers with a purpose to deliver the world's best shopping experience.
In 2005, John Winning established Appliance online, a well-known online home appliance retail platform in Australia. This platform has been recognized all over the world, and it has also provided sellers with a perfect service plan, which has brought explosive growth to Winning Appliance's home appliance retail business.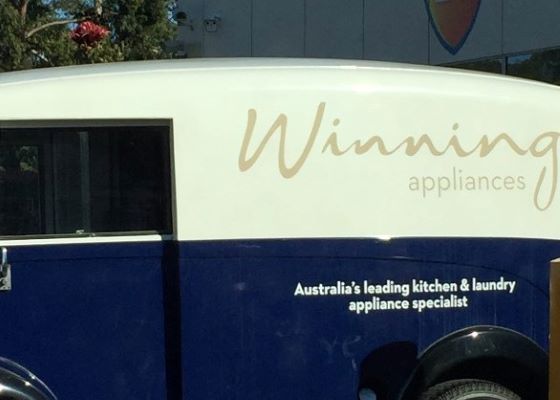 During the transportation of home appliances, EPS foam packaging is often used to protect them from collision or damage, resulting in a large amount of waste EPS foam. Winning Appliance began recycling EPS foam about 10 years ago when it bought three blue EPS Compactors from a local agent. However, the operation of this EPS Compactor is cumbersome. You need to open the window and then close the door every time. When the material inside is gone, you need to open and close the door repeatedly. In addition, the production capacity of this EPS recycling machine is small, and the income from selling compressed EPS materials cannot cover the labor and electricity cost. Slowly, Winning Appliance stopped recycling EPS with EPS Compactor.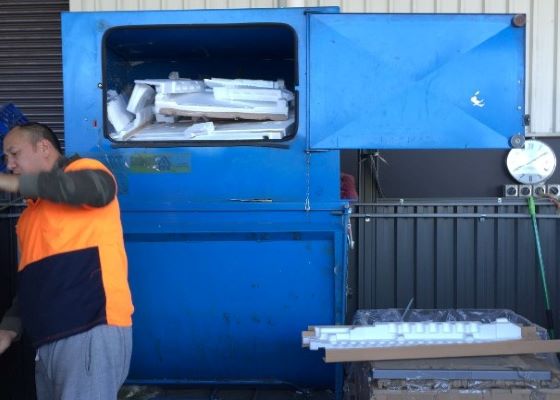 Considering the environment protection and response to the circular economy, Winning Appliance re-investigated the EPS Recycling project and found the GREENMAX team with 20 years of EPS recycling experience. GREENMAX recommends the cooling system of the EPS Hot Melting Machine for Winning Appliance.
The design concept of this system is to replace labor with machinery as much as possible, while keeping workers and the machine at a safe distance. Workers only need to put EPS waste on the conveyor belt at a distance of 3 meters from the machine. EPS are sent to the EPS Hot Melting Machine through a conveyor belt and then melted, cut into blobs by an automatic cutter, and then enter the water tank for cooling.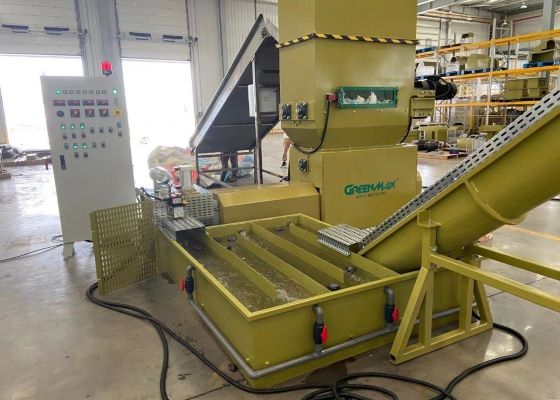 To fully cool, the length of the water tank is designed to be as long as 27 meters. Generally, the temperature of the material just coming out of the EPS Hot Melting Machine is 150-160 degrees. After the cooling system, the temperature of the final hot melted blobs can drop to 60 degrees.
This cooling system of the EPS Hot Melting Machine is expected to save $6,600 per month in labor for Winning Appliance, while successfully turned the EPS recycling project back into profit. Besides, the cooled EPS blobs can be packaged and sold to recyclers or pelletizers at a reasonable price, and then processed into renewable products such as photo frames and skirtings to achieve EPS Recycling and the development of circular economy.