GREENMAX Polystyrene Compactor Apolo C200
GREENMAX Polystyrene Compactor Apolo C200 (A-C200) is the medium model of Apolo Series polystyrene recycling machine. Apolo C200 polystyrene compactor cold-compresses waste foam based on the principle of pressure generated by spiral rotation and is mainly used for recycling EPS foamed polystyrene, EPS lunch box, XPS insulation board, EPP foamed polypropylene, etc.
GREENMAX Apolo C200 polystyrene compactor can compact your waste foam at a volume reduction ratio of 50:1, helping to save storage space and transportation costs.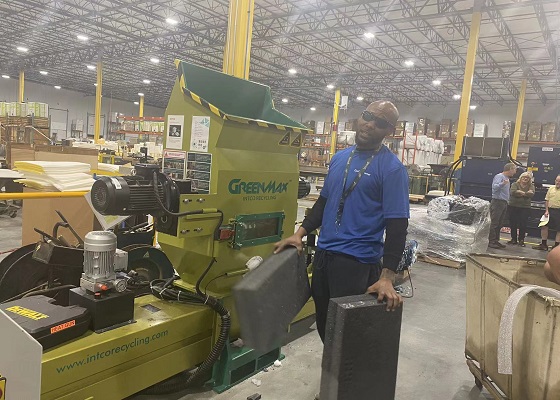 Advantages
1. True Throughput
The GREENMAX Apolo Series polystyrene compactor A-C100 has a true throughput of 100kg/hr.
2. Low Power Consumption
GREENMAX Apolo Series Polystyrene Compactor A-C200 has a low power consumption to help save electricity costs.
3. Easy Operation
GREENMAX polystyrene compactor uses PLC technology to control the hydraulic system, prompting the hydraulic board up and down automatically, making the operation easy and simple.
4. Customized Machine For You
GREENMAX Polystyrene Compactor A-C200 can be customized according to your waste, plant size and budget, since the density and size of the EPS is crucial for the choice of pre-crusher solution and motor size.
Technical Data
| | |
| --- | --- |
| Capacity | 200kg/hr |
| Compression Ratio | 50:1 |
| Compressed Density | 200~400kg/cubic meter |
| Motor Power Consumption | 19.55KW |
| Small Footprint | 750mm deep and 4940mm long |


GREENMAX Polystyrene Compactor A-C200 Case Video