Beverage Packaging Recycling - GREENMAX Dewatering Machine
Beverage Dewatering Machine Poseidon Series
GREENMAX Poseidon Series dewatering machine is a beverage packaging recycling equipment aiming to empty yogurt bottles, PET bottles, aluminum cans and beverage boxes. Equipped with the screw compression technology, the GREENMAX beverage dewatering machine enables continuous output at a ratio of 10:1, and the water draining function can squeeze out the liquid to the water collection tray.
The Poseidon beverage dewatering machine can be used in the beverage (soft drink) industry, converting the waste beverage containers into new energy resources as well as avoiding polluting the environment. With the help of the beverage dewatering machine, the waste beverage bottles or food packaging can be compacted into tight blocks or tight material to reuse after processing.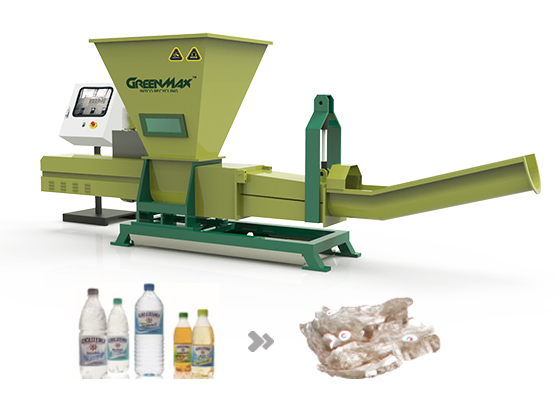 Applicable Materials
PET Bottles

Aluminium Cans

TETRA-PAK & Yogurt Cups

Beverage Dewatering Machine Advantages


1. True Throughput
The GREENMAX Poseidon Series beverage dewatering machine has a true throughput of 200kg~900kg/hr.
2. Save Cost & Space
The beverage dewatering machine compacts some expired soft drink packages after dewatering at a ratio of 10 :1, saving space for future disposal, as well as labor and processing costs.
3. High-quality Components
Equipped with reputable SIEMENS, PHOENIX, SCHNEIDER, NSK components, GREENMAX beverage dewatering machine ensures great safety, reliability and durability.
4. Customized Machine
The GREENMAX Poseidon Series dewatering machine can be customized upon your beverage recycling system without any charge.
Based on the different production capacity per hour, GREENMAX Poseidon Series beverage dewatering machine is divided into three models: P-C200, P-C350, and P-C900.
● GREENMAX Dewatering Machine Poseidon C200
● GREENMAX Dewatering Machine Poseidon C900
Why Choose the GREENMAX Beverage Dewatering Machine?
GREENMAX Poseidon Series Beverage Dewatering Machine compares well on price to its competitors in the Australian market when you compare on key criteria such as:
● True demonstrated throughput – Converts to labour cost
● Relative power – Not power efficiency but total grunt to process reliably
● Quality of electrical componentry, machining, welding and motor/gearbox combinations.
● Robustness of construction, I.e. machine weight, material thickness, screw shaft diameter, strength of chain drive.
● Highest reliability in the world with common parts stocked in Australia.
● Maintenance packages available at competitive rates.