Albury City Council Develops Circular Economy Helped with GREENMAX EPS Melting Machine
Albury is a city covering an area of 305.9 square kilometers and with a population of 53,767 (June 2018), located at the junction of New South Wales and Victoria, Australia, 460 kilometers southwest of Sydney and 260 kilometers northeast of Melbourne.
Albury began recycling expanded polystyrene (EPS) in 2012, collecting 3-4 tons of EPS waste on average every month. The waste is dropped off by local residents and businesses to the CRC (Community Recycling Center) operated by the Albury City Council, EPS packaging materials and large pods waste are included.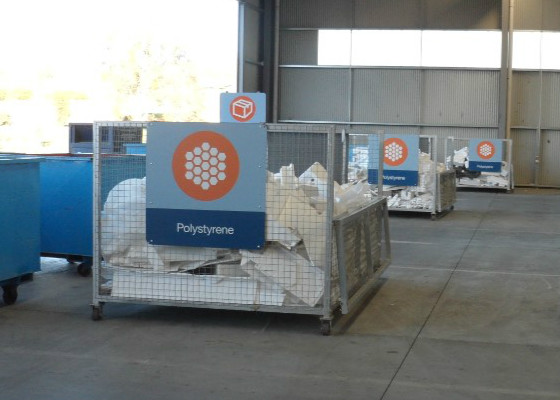 The first recycling equipment used by Albury City Council to deal with EPS waste was an off white machine with a mini hopper. The capacity of this machine is about 20-40kg/hour while marked with capacity 100kg/hour, resulting in low efficiency in the actual EPS recycling process. Besides, because the opening of this machine is only 500mm, large EPS waste materials such as pods waste will not be thrown in; and its crushing is not strong enough, so large materials need to be broken manually first.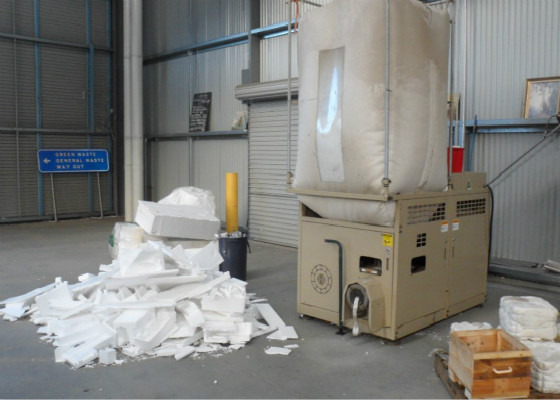 After enduring the inefficiency and laboriousness of the old machine for several years, Albury finally decided to replace it in July 2020, instead introducing a GREENMAX Polystyrene Melting Machine with a full set of automatic systems: including automatic cutting, water cooling and automatic packaging.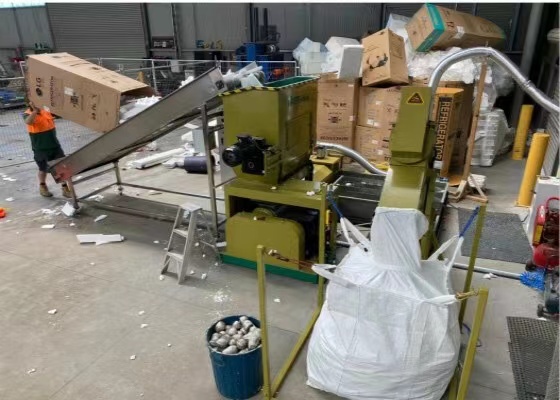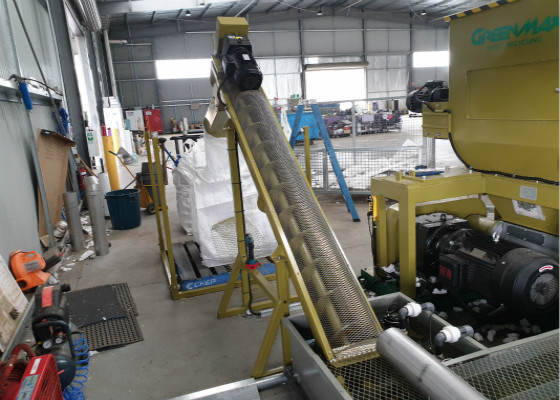 This system has the following advantages:
1. Effective Crushing System Improved Efficiency
The GREENMAX EPS Melting Machine is equipped with a powerful crushing system and a 1.2m-wide opening, so all EPS waste materials, whether large or small, solid or soft, can be directly thrown into the machine and crushed into small scraps.
2. Saved 50% Labor and 30% Electricity Costs
Due to the high degree of automation, the worker's job is just to put the waste on the conveyor belt without reeling, which helps Albury City Council save at least 50% of labor costs and 30% of electricity costs.
3. Increased Profits by Selling Compressed EPS Blocks
The hot-melt EPS waste material is better shaped, and the material out of the unit volume is heavier, so the shipping efficiency is improved, and higher profit from selling compressed EPS materials is obtained.
4. Humanized Operation Process
The GREENMAX Polystyrene Melting Machine customized for Albury City Council is equipped with a conveyor, so workers don't need to lift their shoulders to feed materials. The whole process saves manpower and is user-friendly.
INTCO Recycling will buy back the compressed EPS blocks waste generated by Albury City Council to make frames and sell them to retail stores around the world, such as Walmart, Zara Home, and Target. This truly realizes a circular economy, that is, unpleasant rubbish turns into beautiful works of art, which promotes the recycling of resources and the endless development of human society.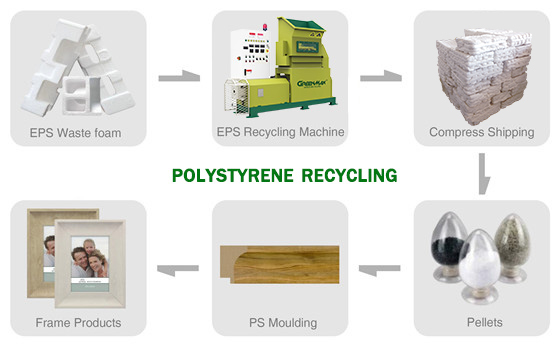 INTCO Recycling hopes to work out the problems that have troubled you in recycling EPS with our expertise. Please contact Wenny by calling +61 0480 048 700 or emailing sales@greenmaxmachine.com.au to
Get Your Customized Recycling Solution Now
.