GREENMAX Polystyrene Compactor Apolo C300
GREENMAX Polystyrene Compactor Apolo C300 is the highest-grade model of Apolo Series polystyrene recycling machine equipped with the screw compression technology and overwhelmingly high efficiency, which can compress the waste polystyrene into dense blocks with a density of 50:1.
Compared with
Apolo C100
and
Apolo C200
, the capacity of Apolo C300 polystyrene compactor can reach at 300kg/hour, and the upgraded Big Silo System of Apolo C300 can save the crushed EPS pieces in its big house, helping to save large space. GREENMAX polystyrene compactor Apolo C300 is applicable to recycling expanded polystyrene (EPS) , EPS lunch box, XPS insulation board, and expanded polypropylene (EPP).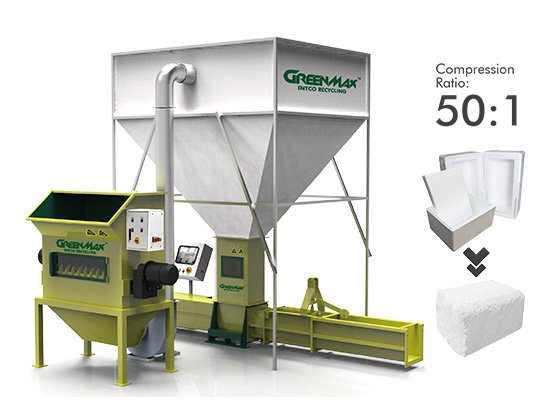 Advantages
1. True Throughput
The GREENMAX Apolo Series polystyrene compactor A-C300 has a true throughput of 100kg/hr.
2. Low Power Consumption
GREENMAX Apolo Series Polystyrene Compactor A-C300 has a low power consumption to help save electricity costs.
3. Easy Operation
GREENMAX polystyrene compactor uses PLC technology to control the hydraulic system, prompting the hydraulic board up and down automatically, making the operation easy and simple.
4. Flexible Design in Layout
The footprints of the pre-crusher and hot melting machine of Mars C300 can be flexibly designed and located according to your plant size, saving ground space.
5. Customized Machine For You
GREENMAX Polystyrene Compactor A-C300 can be customized according to your waste, plant size and budget, since the density and size of the EPS is crucial for the choice of pre-crusher solution and motor size.
Technical Data
| | |
| --- | --- |
| Capacity | 300kg/hr |
| Compression Ratio | 50:1 |
| Compressed Density | 200~400kg/cubic meter |
| Motor Power Consumption | 29.05KW |
| Small Footprint | 4480mm deep and 4945mm long |
GREENMAX Polystyrene Compactor A-C300 Case Video