GREENMAX Beverage Dewatering Machine Poseidon C900
GREENMAX Beverage Dewatering Machine Poseidon C900 (P-C900) is the highest-grade model of the Poseidon Series designed for beverage packaging recycling. Poseidon C900 provides drinking bottles with a crushing, washing and drying production line, which can easily wash waste plastic products. Wet and dirty PET bottles, waste packing material and hard plastics can be treated step by step with this beverage dewatering machine.
GREENMAX C900 Beverage Dewatering Machine can squeeze the water out of full plastic bottles efficiently with the residual humidity between 8% and 15%, while the energy consumption is low at the 30 kWh per ton of plastic bottles.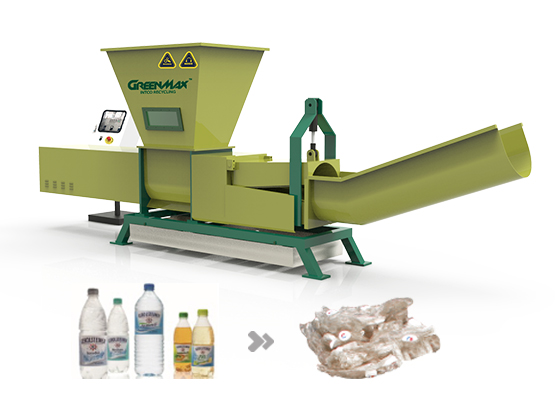 ADVANTAGES
1. True Throughput
The GREENMAX Poseidon C900 beverage dewatering machine has a true throughput of 900kg/hr.
2. Save Cost & Space
The beverage dewatering machine compacts some expired soft drink packages after dewatering at a ratio of 10 :1, saving space for future disposal, as well as labor and processing costs.
3. High-quality Components
Equipped with reputable SIEMENS, PHOENIX, SCHNEIDER, NSK components, GREENMAX beverage dewatering machine ensures great safety, reliability and durability.
4. Customized Machine
The GREENMAX Poseidon beverage dewatering machine can be customized upon your beverage recycling system without any charge.
TECHNICAL DATA
| | |
| --- | --- |
| Throughput | 900kg/h |
| Screw Reduction Ratio | 50:1 |
| Bottle Volume Reduction | 10:1 |
| Compressed PET Density | 900kg/m3 |
| Total Power Consumption | 22.55kw |
GREENMAX Beverage Dewatering Machine P-C900 Case Video